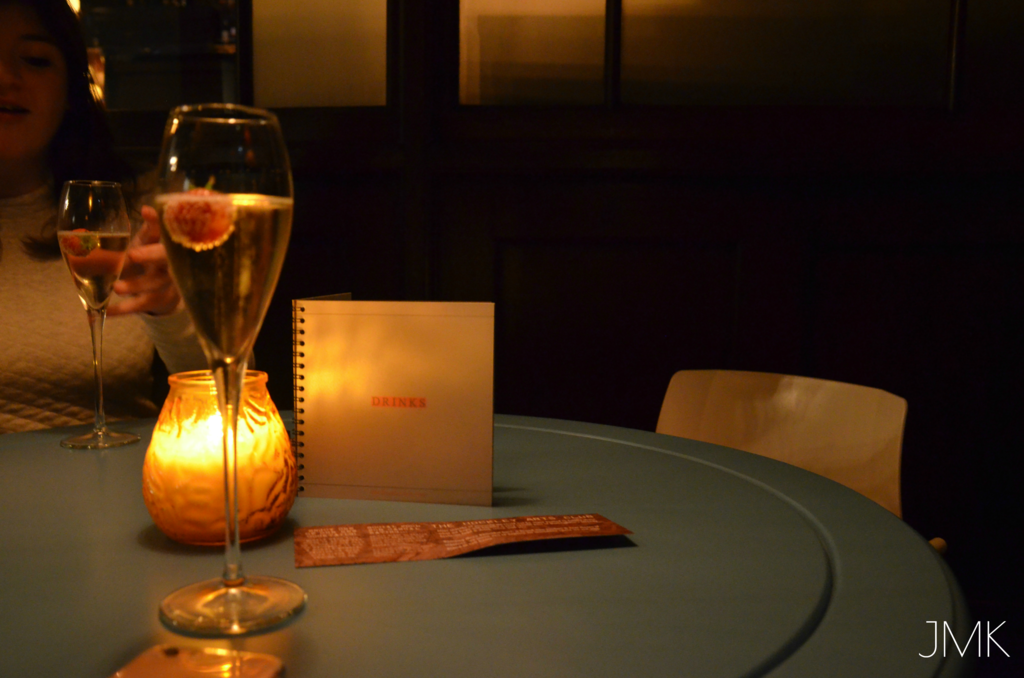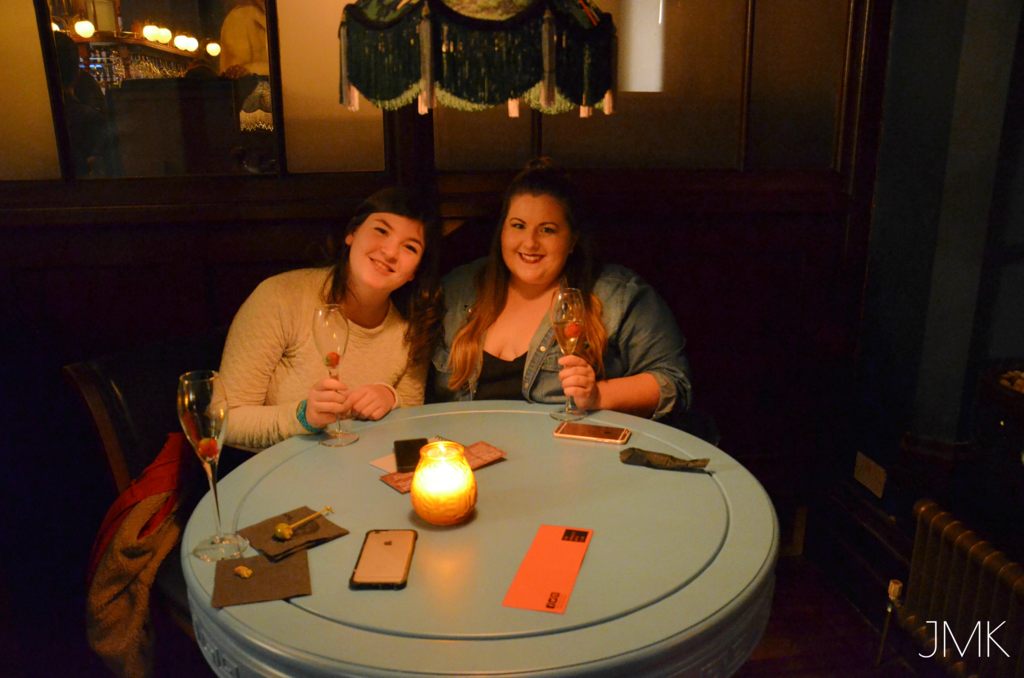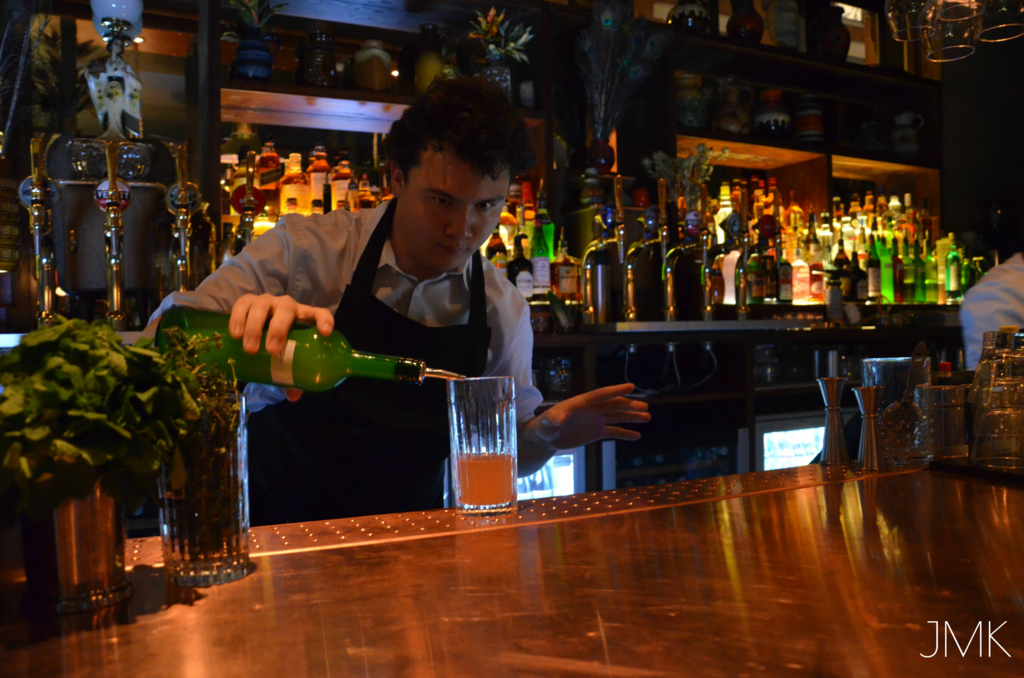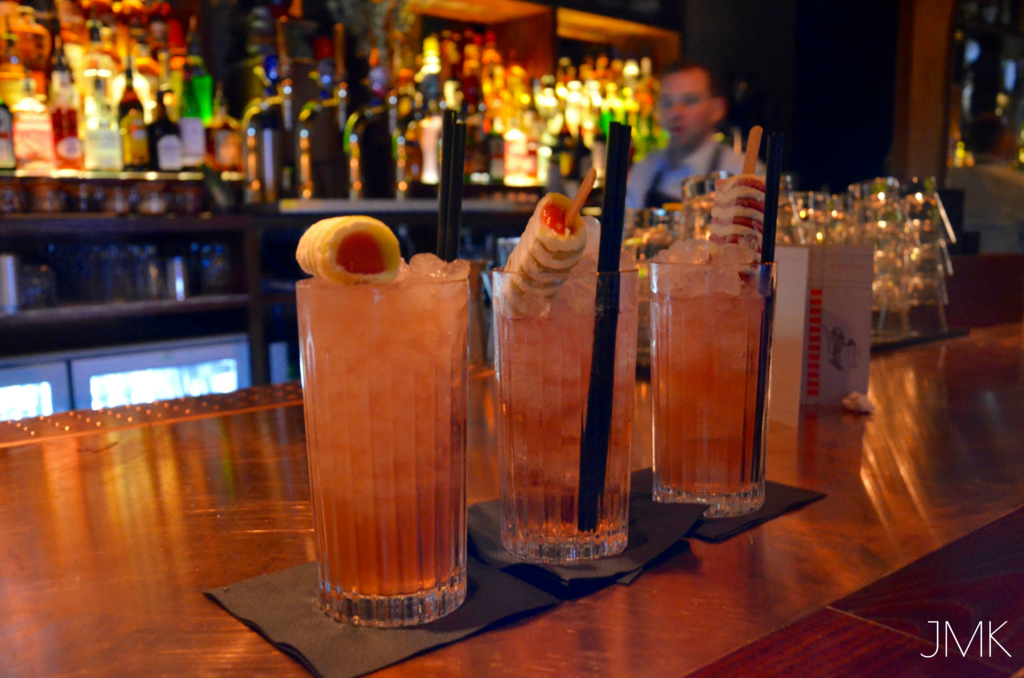 A new player stepped into the game last week, and they mean business. I feel like in the last year, every time I go to Nottingham, a new independent bar, restaurant or coffee shop is the place to be. As someone that is obsessed with exactly this kind of place, this is good news for the little city I love and last week I was invited to the launch of 'The Hockley Arts Club' the latest edition to this ever growing scene.
Located on bustling Carlton St in the city, the unassuming black door, reveals an alley that leads to a city oasis of 20's charm. Through the courtyard and up the stairs and you are in. The Victorian Grade II listed building has been transformed into a unique blend of 20's and 70's glam. The atmosphere, even on opening night was electric. Enthusiastic staff, mingled with the crowd and seemed genuinely excited to show off what this four storey experience has to offer.
I'll admit, I was already in love, and this was before even sampling any of the drinks. The cocktail menu definitely offers something new to the Nottingham scene, all of them have been designed and developed by the guys at Hockley Arts Club and all come with a unique twist. My early favourites are 'The Twister' that comes complete with a Twister Ice Lolly, seriously, and lots of sweetness, I think it is actually vodka based but tastes like sweets in the best kind of way. The 'OutKast' is another sweet cocktail I quickly took to, I can't help myself but be drawn to the sugar. This one was suggested by the bar manager, the coolest thing about it? You get a polaroid of your night pegged to your cocktail.
As well as the many, many drinks on offer there is a nice selection of nibbles on offer too. I think the ground floor would make a perfect spot for some food, before heading upstairs for a cocktail or three. I only actually sampled the chicken meat balls, which despite maybe not sounding the most appealing, were actually delicious and I heard all the right noises when
Leigh
and her friend Tilly sampled the Pork Belly and other nibbles.
Although I started out by praising the volume of great independents in Nottingham now, I don't see this one getting swallowed up anytime soon. It really is a game changer, it's everything the cities favourite spots have to offer, but just a little bit bigger and a little bit better.
Have you been to Hockley Arts Club yet? What is your favourite spot in Nottingham?
Until next time,
Love&Kisses,
Mel
@JustMelKate